Rare Plants
& Videos Weekly
I am probably the best customer Etsy has for 🪴and they come from all over the country...sometimes world. This without a doubt is the best I've received.

Dana Pizzuto
If I could give more than 5 stars I would. Seller went above and beyond to make sure everything was great. They're also LA located so receiving the packages were incredibly fast and beautifully wrapped and packaged. I could not be happier. Also, their 3D printed pots are really well made and are even fun to feel because of their ridges. Anyways, if you're interested in anything the seller is selling than do yourself a favor and buy! Thanks again for the great plants.

Javier D.
I have ordered multiple plants from them and they are the BEST!!!! Best packaging EVER!!!!! The plants are amazing, and I have about 7 plants from them and they are all doing great while being shipped all the way across the country. Thank you!!!

Mark
Best online plant store ever! My plants have came in perfect condition! This is my new favorite plant store!

Propst Fam
I just received my plants and couldn't be happier. They arrived in perfect condition, nicely packaged and with cute little notes showing the last day plants were watered, nice touch. Monica shows her love for her plants in every shipment. 100% recommended! Thanks Monica!

Alicia M.
I just received my plant order today and I'm absolutely thrilled! I ordered three plants in total, a Hoya Kerri, Neon Photos, and Philodendron Brazil, and all were in perfect condition. Not one plant had a single stem or leaf broken! I order a lot of plants online, and I can tell you from experience this never happens. Their custom made pots that they come in are absolutely adorable...

Amanda M.
I just received the three plants I ordered and am ridiculously impressed. Despite their journey from California to Miami, all three were in fantastic shape, happy and perky once released from their tender wrappings. I gave them some water and a bright spot in my office, and can't wait to bring them home this evening. And the 3-D printing planters are both stylish and sturdy.

MiddleSomething
The plant arrived beautifully intact because of it, and the little extra touches and hand-written thank you was like a cherry on top.
We live in a society that confuses being fast with being efficient, and we have become desensitized to what proper shipping should be...
So, Pretty in Green, nice job! The product is beautiful, but the extra steps make a huge difference.

Debbie Caldwell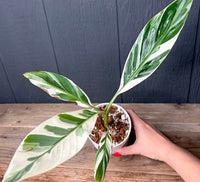 Biodegradable Pots
We manufacture our BioPots™️ in-house using plant-based 🌽 materials, ensuring a low environmental impact.
See Sustainable Pots